Antoinette, Navy Veteran, Machining I Graduate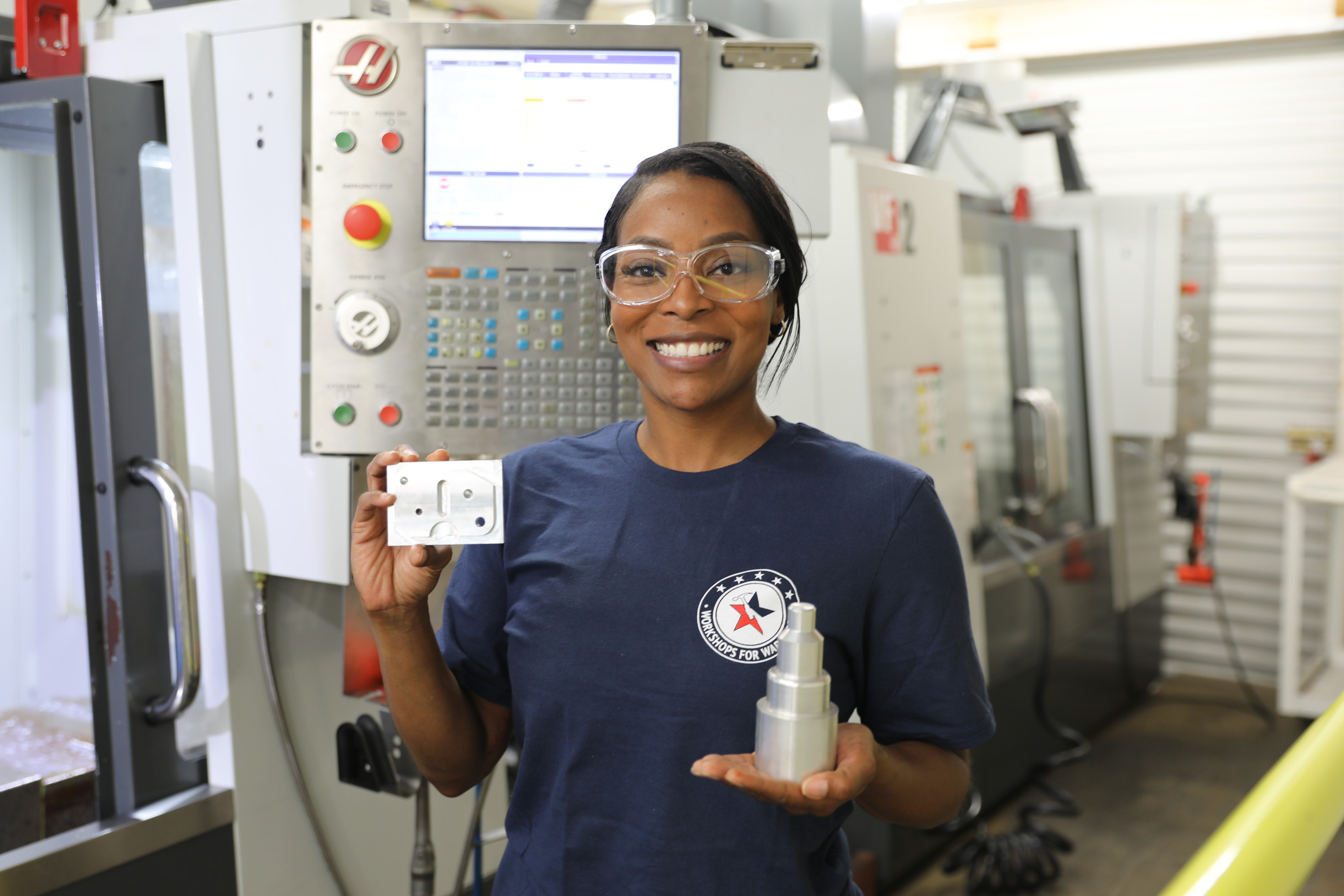 "It was a welcoming feeling. I felt like I was back where I belonged."
Antoinette grew up in Winston Salem, NC with her mother, a single parent, and sister. Growing up, Antoinette was always interested in mechanics. "Cars, airplanes – I loved it all," she said.
After high school, Antoinette decided to join the Navy. When she was presented with a list of job options, she chose to be an Aircraft Structural Mechanic. "I wanted to put my hands on machines and metal," she said.
Her first duty station was Virginia Beach where she was in a fighter squadron, VFA 106. As an O-Level ordnanceman, Antoinette was charged with aircraft maintenance, inspections, and service. "Unfortunately, that's where I had my accident."
During night ops, Antoinette was struck in the leg by the fin of a missile on an aircraft, leaving her unable to walk and on crutches for an extended period, and with years of subsequent physical therapy.
After her accident, and about nine months from her end-of-service date, Antoinette transitioned to Intermediate-Level (I-Level), a position that involved more in-depth maintenance, like component repair. She traveled to different schools learning fabrication and excelled. "I was automatically advanced to the next rank. I didn't care what the qualifications were – I wanted all of them!"
Despite physical complications resulting from her injury, Antoinette chose to return to O-Level. "I wanted to chase the aircrafts," she said. "When I got back on the flight line, I realized something was different. I don't believe in fear, but maybe there was some there, because of what happened. It was a lot. So much started to come up."
Antoinette was medically retired in 2018. "I had my daughter in 2018. I hadn't worked for a while. In 2020, I was going through a divorce, and I tried to start my own business, but it didn't work out," she said. "I really needed a job, but I didn't know where to start. I was homeless, hopping around from place to place, for about two years."
In July 2022, she found a home in San Diego and began searching online for employment. "That's when I found Workshops for Warriors." She enrolled in the Fall 2022 Machining I class.
"I got in there, and I was so excited. It was a welcoming feeling," Antoinette said about her first impression of WFW. "And once I got on the machines, I was in heaven. I felt like I was back where I belonged."
Antoinette said that at the WFW Career Fair, one employer told her that if she was willing to relocate, they would hire her on the spot. She received numerous other job offers and is looking forward to her future.
In December 2022, Antoinette graduated from WFW with 20 nationally-recognized certifications.
"Just try it out," Antoinette said to her fellow veterans. "You are taken care of here. There's no way you can lose."