Bethany, Navy Veteran, Welding I Student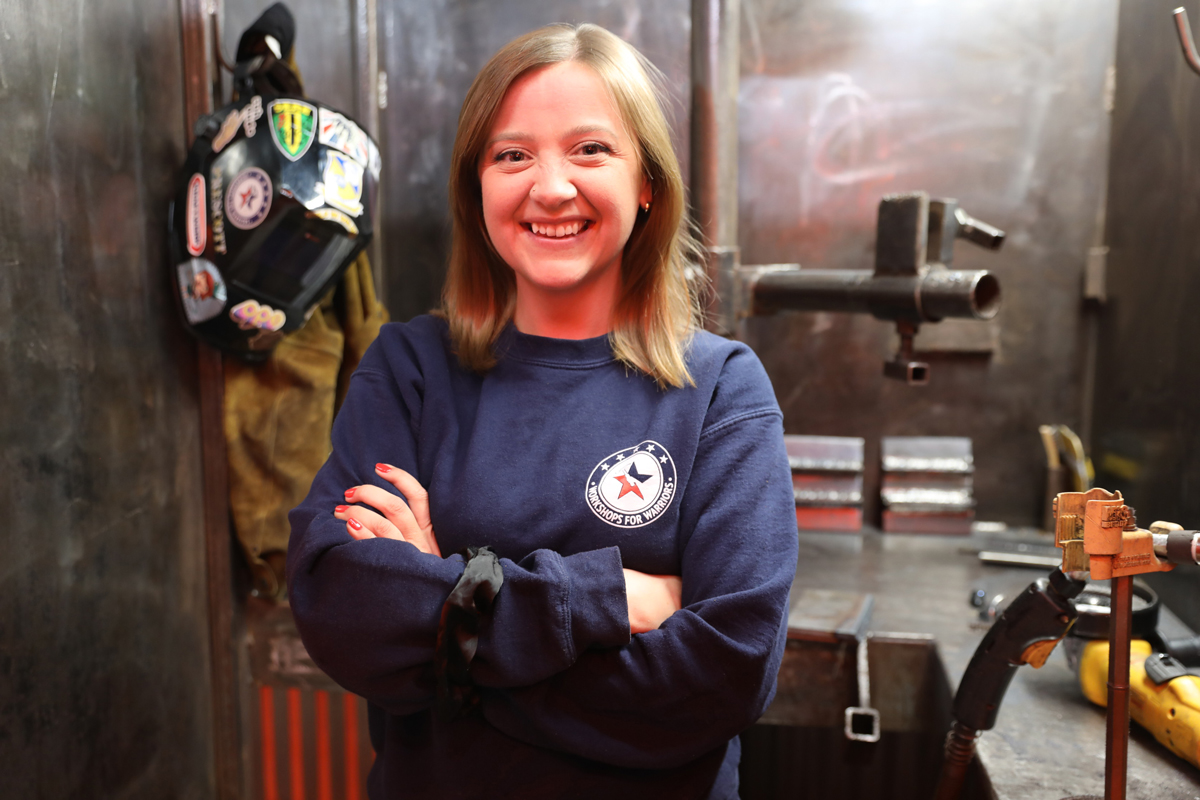 "From day one at Workshops for Warriors, I felt like I belong. I don't know of any other school that cares so much about what happens after you graduate."
Bethany Prescott grew up in Elgin, Illinois, a suburb of Chicago. After graduating high school, she started working full-time while attending college.
"College didn't hold my interest," Bethany said. "I was learning things that I didn't really care about." After about a year and a half, she decided to join the Navy, and became an aviation structural mechanic.
"I was working on F-18s and I loved it," she said. "Every day was exciting. I like working with my hands."
After serving honorably for four years, Bethany returned to college to study marine biology. "I felt like that was what I had to do. I didn't know that I had other options." While there, she also worked in the VA office helping other veterans transition.
"I really liked that a lot," she said. "But with school, I still didn't feel fulfilled." Then, an officer she worked with while in the Navy helped her land a job with Boeing as an Integral Fuel Cell Mechanic, working on airplanes.
After about a year and a half of working at Boeing, Bethany's husband received orders to Italy, where they lived for four years.
"As great as it was, there were definitely some dark days," she said. "I didn't work while we were in Italy. I went back to school again, this time for human resource management. And again, I had the same feeling that it wasn't right for me. I was thinking, 'What is there if I'm not going to go to school?'"
Bethany began reflecting on past experiences that brought her happiness. One of those things was being an aircraft mechanic. "I like working in a shop with tools, and building and fixing things," she said.
"When I was an aviation structural mechanic in the Navy, there was a side section where they can send you to school to be a welder, but I was never sent to that school. After that, the thought of welding always kind of stayed with me," Bethany said.
When Bethany's husband received orders to San Diego, she searched for welding schools in the area.
"The first school that showed up was Workshops for Warriors, and it seemed like it was almost too good to be true," she said. "After starting the enrollment process, I felt like Workshops for Warriors was the right choice for me."
When asked what it was like going to a school that trains veterans and active duty transitioning service members, she said, "It's huge. Everybody in the room is a veteran. They've walked in the same boots that you have, and we all have a similar understanding, a way to communicate with one another that we all understand."
"Being here with veterans, it's easy," she continued. "From day one at Workshops for Warriors, I felt like I belong. I don't know of any other school that cares so much about what happens after you graduate. Like ensuring your resume is good, making sure that your finances are good, and making sure that you succeed after you graduate. I'm excited to see this place expand so that it can reach more veterans because there's no place like this."
When speaking about learning welding, a skill traditionally dominated by men, and training at Workshops for Warriors, Bethany commented: "There are a lot of benefits to being a woman in welding, a male dominated industry, and at Workshops for Warriors, I've never felt uncomfortable. I've never felt talked to differently. There's nothing but endless support here from the top down."
Bethany offered advice to other women veterans considering training at Workshops for Warriors: "Do it. You have nothing to lose. There's no reason why being a woman should hold you back from doing something that makes you happy."
As for her future, Bethany plans to enroll in Workshops for Warriors' Welding II program. "I want to continue to learn as much as I can while I'm here. I know that my opportunities are endless with the need for welders in the manufacturing industry in America."